HERKERT & MEISEL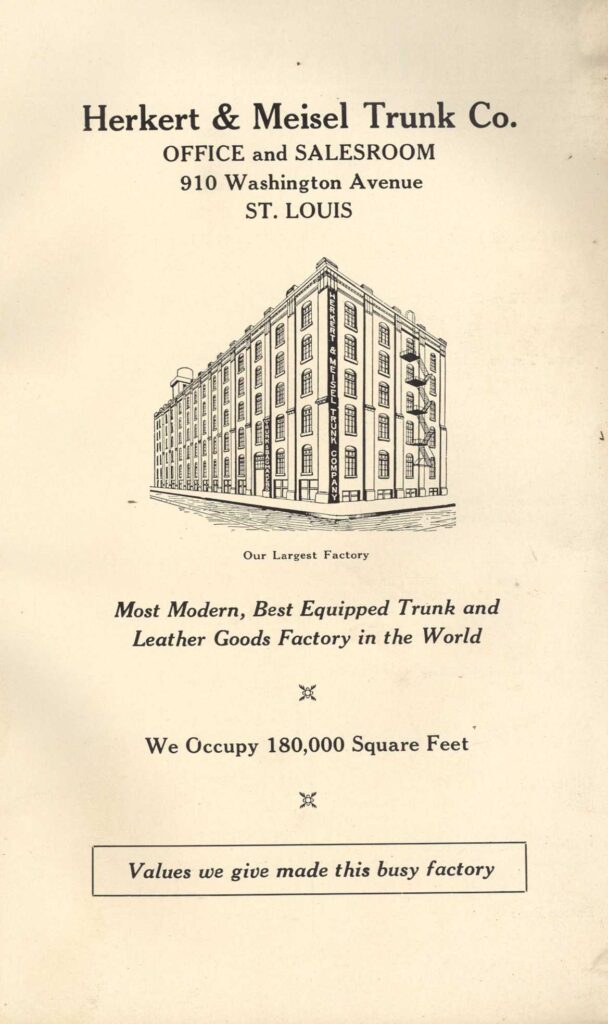 Manufacturers of Quality Shoe Sample Cases since 1888
Herkert & Meisel Trunk Co.
St. Louis, Missouri
A BRIEF HISTORY OF AN AMERICAN ICON
The Herkert & Meisel Trunk Company was founded in 1888 in the city of St. Louis, Missouri, to service the needs of a population that was starting to travel throughout the country by rail and internationally by steamship.
The first factory was at 608 Washington Avenue. H&M experienced a tremendous growth spurt during the next 20 years, growing from 13,750 square feet in 1888 to 150,000 square feet in 1907.
The second factory was located at 6th and O'Fallon, and a third factory was at 1113-17 North Street. Shortly thereafter, the fourth and, to our knowledge, the last and largest factory was opened at 910 Washington Avenue. The company now occupied over 180,000 square feet of space and at its height had over 800 employees engaged in the manufacture of steamer trunks, luggage and small leather goods.
Herkert & Meisel advertised itself as: "Most Modern, Best Equipped Trunk and Leather Goods Factory in the World."
During the first 3 to 4 decades of the 20th century, H&M was the preferred manufacturer of trunks for the many vaudeville and burlesque entertainers that were extremely popular during that period. During WW II and the Korean War, H&M made thousands of footlockers, ammunition cases, mess kits, and field desks for the U. S. Army under military contract.
H&M continued to manufacture made-to-order trunks for the road companies of many of the Broadway shows well into the 1960's and 1970's.
This period, however, saw a steep decline in the traditional business of H&M. Large steamer trunks and heavy fiber luggage were no longer being used by a public that now traveled mostly by air. It was during this time that H&M became what it continues to be today – the oldest, largest and best manufacturer and supplier of sample cases to the footwear industry in the U. S., and possibly in the world.
These photos come from a sales catalog of 104 pages. The catalog is not dated but looks to be from some time in the 1920's. We have received numerous inquiries from people who have an old trunk and are seeking some information on it. While almost all the old records were lost or destroyed when 910 Washington Avenue was demolished to make way for a new convention center hotel in 2001, this catalog and one other from 1907 remain. The 1907 catalog, however, needs to be restored before we can post it on this site.